I have recipes saved in so many different places that I never knew where to look to find "that recipe" that I knew I had. I've decided that I need to keep them all in one place and decided a blog was the way to go. At least that way, others could use them if they sounded good. So, I hope you enjoy some of these recipes and y'all come back now, ya hear?
Chile Rellanos Jose
Very easy breakfast casserole. Can be put together the night before and bake in the morning.
Prep time:
Cook time:
Total time:
Ingredients
1 large can Hatch Green Chilis whole
1 lb Monterrey Jack cheese
½ lb Cheddar cheese grated
5 eggs
¼ c milk
1/c c flour
salt & pepper
Instructions
If cooking immediately, preheat oven to 350.
Remove the seeds and drain the peppers.
Cut the Monterrey Jack cheese into strips about ¼" x ½" the length of your peppers.
Insert the strips of cheese inside the peppers and place side by side in a 9x13 pan.
Spread the grated cheddar cheese all over the top.
Beat the eggs with a fork, then add the rest of the ingredients.
Pour over the top of the peppers and cheese.
Bake for approximately 45 minutes.
Optional: serve with fresh chopped tomatoes, green onions, shredded lettuce.
You can refrigerate and bake later.
Makes 2 9″ Pies
Bake at 450 for ten minutes then at 350 for 40-45 minutes.
Green Bean Chili
Ingredients
2.25 lbs ground chuck
1 onion chopped
4 cans green beans
4 cans diced tomatoes
Salt, Pepper, Chili Powder and Cumin to taste
Instructions
Brown ground meat and add the chopped onion. After the onion is almost clear, add the tomatoes and green beans and seasonings. Let simmer for an hour and serve with hot sauce if desired and shredded cheese.
Delicious cold black-eyed pea salad!!
INGREDIENTS
1Â 16-oz can black eyed peas, drained
1Â 11-oz can shoepeg corn, drained
2Â tomatoes, chopped
1/4Â purple onion, chopped
1Â green bell pepper, chopped
1/2Â c Splenda (or sugar)
1/2Â c Apple Cider Vinegar
1/4Â c canola oil
1/2Â t Lawry's Seasoning
1/2Â t ground black pepper
---
INSTRUCTIONS
In a large bowl, combine peas, corn, tomatoes, onion and bell pepper. In a medium bowl, combine Splenda, vinegar, canola oil, pepper and Lawry's. Pour over vegetables and refrigerate overnight.
---
NOTES
You can substitute 2 teaspoons of Tabasco instead of the Lawry's and black pepper. You can also serve this salad over salad or mixed greens, but it is delicious just by itself.
YIELD 2 quarts • ACTIVE TIME 15 minutes • TOTAL TIME 12 hours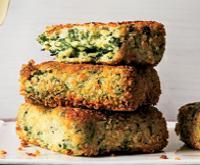 INGREDIENTS
Ingredients

1/2Â cup quinoa
1/4Â cup plus 2 tablespoons extra-virgin olive oil
1Â tablespoon minced shallot
10Â ounces baby spinach
Salt
Freshly ground pepper
1Â cup low-fat milk
3/4Â cup finely ground semolina
1/4Â cup freshly grated Parmigiano-Reggiano cheese
1Â large egg, beaten
1 1/2Â cups panko (Japanese bread crumbs)
3Â large egg whites
---
INSTRUCTIONS
In a small saucepan, combine the quinoa with 1 cup of water and bring to a boil. Cover and cook over low heat until the water has been absorbed, about 15 minutes. Lightly fluff the quinoa with a fork and cover it again.
Meanwhile, in a large skillet, heat 1 tablespoon of the olive oil. Add the shallot and cook over moderate heat, stirring, until softened, about 1 minute. Add the spinach and cook until most of the liquid has evaporated, about 5 minutes. Season with salt and pepper. Transfer the spinach to a strainer and let cool slightly; press out any remaining liquid and finely chop the spinach.
In a large saucepan, combine the milk, 1 1/2 cups of water, 1 tablespoon of the olive oil and 2 teaspoons of salt and bring to a boil. Remove the pan from the heat and gradually whisk in the semolina until very smooth. Cook over moderate heat, stirring constantly with a wooden spoon, until the semolina is thick enough to hold soft peaks when the spoon is lifted, about 7 minutes. Remove the semolina from the heat and stir in the quinoa and Parmigiano. Season with salt and pepper and let cool for 15 minutes.
Stir the beaten whole egg and spinach into the quinoa mixture and spread in an ungreased 7-by-11-inch pan; it will be about 2 inches thick. Let cool at room temperature, then cover loosely with plastic wrap and refrigerate for at least 4 hours or overnight.
Preheat the oven to 250°. Cut the chilled semolina mixture into 12 squares. Put the panko in a shallow dish and season with 1 teaspoon of salt. In another shallow dish, whisk the egg whites with 1/2 teaspoon of salt and 1 tablespoon of water. Dip the cakes into the whites and turn to coat, letting the excess drip off. Coat the cakes in the panko and shake off excess crumbs. Transfer to a clean baking sheet.
In a large skillet, heat 2 tablespoons of the olive oil. Add half of the cakes and cook over moderately high heat until golden on both sides and on the edges, about 6 minutes; adjust the heat as necessary to prevent the cakes from burning. Drain the cakes on a paper towel–lined plate, then transfer to a baking sheet and keep warm in the oven. Wipe out the skillet and cook the remaining cakes in the remaining 2 tablespoons of olive oil. Serve hot.
YIELD Makes 12 cakes • TOTAL TIME 1 HR plus 4 hr chilling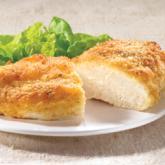 INGREDIENTS
1/2 cup Hellmann's® or Best Foods® Real Mayonnaise
1/4Â cup grated Parmesan cheese
4Â boneless, skinless chicken breast halves (about 1-1/4 lbs.)
4Â tsp. Italian seasoned dry bread crumbs
---
INSTRUCTIONS
Preheat oven to 425°.
Combine Hellmann's® or Best Foods® Real Mayonnaise with cheese in medium bowl. Arrange chicken on baking sheet. Evenly top with mayonnaise mixture, then sprinkle with bread crumbs.
Bake 20 minutes or until chicken is thoroughly cooked.
YIELD 4 • ACTIVE TIME 10 minutes • TOTAL TIME 30 minutes
Try this recipe for delicious, flaky pie crush, cooked up by Gesine Bullock-Prado, sister of Oscar-winning actress Sandra Bullock.
---
INGREDIENTS
2Â cups all-purpose flour, cold
1Â teaspoon salt
1Â tablespoon sugar
1Â cup unsalted butter, cut into small pieces
and chilled in the freezer for 10 minutes
1/2Â cup ice water (Don't add the ice to the pie dough, just the water.)
1Â teaspoon lemon juice
---
INSTRUCTIONS
In the bowl of a food processor fitted with the blade attachment, pulse together the flour, salt, sugar, and butter until the mixture resembles cornmeal.
In a small bowl, stir together the ice water and the lemon juice. Slowly add the liquid to the flour mixture, pulsing, until the dough just comes together. Squeeze a small piece of dough between your thumb and index finger to make sure it holds its shape.
Turn the dough out onto a lightly floured surface and divide it in half. Gently turn over each piece of dough a few times so that any dry bits are incorporated. Form each piece into a loose disk, cover the dough with plastic wrap, and let it rest in the refrigerator for at least 20 minutes.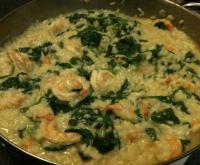 INGREDIENTS
2Â tablespoons olive oil, divided
2Â cups Arborio rice
8Â cups boiling vegetable broth
1Â c Parmesan cheese
2Â teaspoons minced garlic
1Â medium leek, chopped
1.5Â lbs medium shrimp, peeled and deveined
1Â (14 ounce) bag fresh spinach leaves
1Â teaspoon fresh ground pepper
---
INSTRUCTIONS
Heat 1 tablespoon of olive oil in a large, heavy bottomed saucepan over medium-high heat. Pour in the rice, and stir until the rice is coated in oil and has started to toast, 2 to 3 minutes. Reduce the heat to medium and stir in one-third of the boiling vegetable broth; continue stirring until incorporated. Repeat this process twice more, stirring constantly. Incorporating the broth should take 15 to 20 minutes in all. Once the rice is cooked, stir in the Parmesan cheese.
While you are cooking the rice, heat the remaining tablespoon of oil in a pan. Stir in the garlic, leeks, and shrimp. Cook until the seafood is just beginning to turn color. Add the spinach; cook until the seafood is opaque. Combine with the rice, and season to taste with pepper.
YIELD  4 servings • ACTIVE TIME 25 Min • TOTAL TIME 1 Hr

INGREDIENTS
2Â cups/500ml plain thick yogurt or sour cream
4Â avocados, pitted, peeled and chopped
1Â jalapeno pepper, seeded and chopped
Zest and juice of 1 lime
A handful fresh cilantro leaves, chopped
A few drops green hot sauce, such as Tabasco
Salt and freshly ground black pepper
2Â tablespoons/30ml olive oil
2Â tomatoes, seeded and chopped
1Â clove garlic, minced
1Â onion, finely chopped
1Â red bell pepper, seeded and chopped
1Â jalapeno pepper, seeded and chopped
Juice of 1 lime
A handful fresh cilantro leaves, chopped
Salt and freshly ground black pepper
3Â cups/750ml all-purpose flour
1/4Â cup/60ml cornstarch
1Â tablespoon/15ml baking powder
Salt and freshly ground black pepper
2 1/2Â cups/625ml beer (2 bottles)
2Â eggs, beaten
Canola or peanut oil, for frying
1Â pound haddock fillets, cut into large cubes (450 grams)
Homemade Tortillas, recipe follows
Iceberg lettuce, finely shredded
Spicy Green Chili Sauce, recipe follows
2Â cups/500ml very fine corn flour (masa harina)
1Â teaspoon/5ml salt
24Â hot green chile peppers, such as jalapeno, poblano, hatch or Cubanelle
1/4Â cup/60ml olive oil
Salt
1Â onion, finely chopped
2Â tablespoons/30ml distilled white vinegar
1Â tablespoon/15ml coriander seeds, ground
3Â cloves garlic, minced
Pinch sugar
1/4Â cup/60ml chopped fresh cilantro
Freshly ground black pepper
---
INSTRUCTIONS
For the avocado cream: Puree the yogurt, avocados, jalapeno, lime zest and juice, cilantro and hot sauce to taste in a food processor until smooth. Season with salt and pepper. Refrigerate until ready to use.
For the pico de gallo: Combine the oil, tomatoes, garlic, onions, bell peppers, jalapeno, lime juice and cilantro in a bowl. Season with salt and pepper. Refrigerate until ready to use.
For the fish: Combine 2 cups flour, the cornstarch, baking powder and some salt in a bowl. Quickly stir in the beer and eggs (don't worry if there are a few lumps).
Heat the oil in a deep fryer to 350 degrees F (180 degrees C).
Put the remaining 1 cup flour in a shallow dish. Dredge the fish lightly in the flour. Dip the fish in the beer batter to coat, and then fry until crisp and golden brown, about 1 1/2 minutes. Drain on paper towels and season with salt and pepper.
For serving: Spread some avocado cream on a Homemade Tortilla. Top with 3 pieces of fish and some shredded lettuce. Finish with pico de gallo and Spicy Green Chili Sauce.

Combine the flour, 1 1/2 cups water and the salt, and then knead to form the dough. Pinch off a golf-ball-size piece of dough and use your hands to flatten it into a round shape. Set the round on a piece of plastic wrap and cover with another piece of plastic. Use the back of a heavy cast-iron skillet to flatten the dough. (You can use a tortilla press if you have one.)
Transfer the tortilla to a hot, dry skillet. Cook for about 30 seconds on each side. Remove and keep warm. Repeat with the remaining dough.

Preheat the oven to 450 degrees F (225 degrees C).
Put the peppers on a baking sheet. Drizzle with 2 tablespoons oil and season with salt. Roast until the skins are charred, about 30 minutes. Transfer the peppers to an airtight container and let cool (this will make them easier to peel). Peel off the skins, remove the seeds and cut the peppers into chunks.
Heat the remaining 2 tablespoons oil in a saucepan over medium-high heat. Saute the onions until fragrant, about 2 minutes. Add the roasted peppers, vinegar, coriander, garlic and sugar and cook for 1 minute. Add 2 cups (500 ml) water and lower the heat to medium-low. Cook until almost all the liquid has evaporated, about 30 minutes. Stir in the cilantro and season with salt and pepper.
YIELD 4 to 6 servings • TOTAL TIME 40 min