I have recipes saved in so many different places that I never knew where to look to find "that recipe" that I knew I had. I've decided that I need to keep them all in one place and decided a blog was the way to go. At least that way, others could use them if they sounded good. So, I hope you enjoy some of these recipes and y'all come back now, ya hear?
Â

Ingredients
1 green pepper
1 poblano pepper
1 anaheim pepper
1 jalapeno pepper
1 sm red onion
1 red pepper
½ bunch cilantro
4 qt strawberries
½ c honey
½ c raspberry vinaigrette
Juice of 1 lime
Instructions
Mix all in a blender.
 
Â

Ingredients
½ cup magnesium flakes + 3 Tablespoons boiling water or ½ cup pre-made magnesium oil
¼ cup unrefined coconut oil
2 Tablespoons emulsifying wax (Can also use beeswax, but it becomes more difficult to mix)
3 Tablespoons Shea Butter
Instructions
Pour 3 tablespoons of boiling water in to the magnesium flakes in a small container and stir until it dissolves. This will create a thick liquid. Set aside to cool.
In a quart size mason jar inside a small pan with 1 inch of water, combine the coconut oil, emulsifying wax and shea butter and turn on medium heat.
When melted, remove the jar from the pan and let the mixture cool until room temp and slightly opaque. At this point, put in to a medium bowl or into a blender.
If in a bowl, use a hand blender or immersion blender on medium speed and start blending the oil mixture.
Slowly (starting with a drop at a time) add the dissolved magnesium mixture to the oil mixture while continuing blending until all of the magnesium mix is added and it is well-mixed.
Put in the fridge for 15 minutes and re-blend to get body butter consistency.
Store in fridge for a cooling lotion (best consistency) or at room temp for up to two months.
 
Â

Mandarin Orange Pretzel Dessert
Mandarin Orange Pretzel Dessert – This classic dessert features a crunchy pretzel crust, a creamy center, and silky top with mandarin oranges and orange flavored gelatin. Perfect for a summer luncheon!
Prep time:
Cook time:
Total time:
Ingredients
Crust
2 cups crushed pretzels
3 tablespoons sugar
¾ cup unsalted butter, melted
Filling
8 ounces cream cheese, softened
1 cup granulated sugar
8 ounces whipped topping, thawed
Topping
1 box (3 ounce) orange gelatin
1 cup boiling water
1 cup cold water
1 can (10 ounce) DOLE Mandarin Oranges, drained
Instructions
Preheat oven to 350. Coat a 9x13 baking dish with nonstick spray.
In a medium bowl, mix together the pretzels, sugar, and butter. Press evenly into the bottom of the prepared baking dish.
Bake for 15 minutes, or until mixture is lightly toasted. Set aside to cool completely.
In a medium bowl, beat the cream cheese and sugar with a handheld mixer. Fold in the whipped topping until thoroughly combined. Spread evenly over the cooled pretzel layer, making sure it goes completely to the edges. Refrigerate until set, about 30-40 minutes.
In another medium bowl, whisk together the orange gelatin powder with 1 cup boiling water. Stir until completely dissolved. Then whisk in 1 cup of cold water. Gently mix in the mandarin orange slices.
Pour mixture over the cooled cream cheese layer.
Refrigerate until completely chilled and set, about 3 hours. Slice and serve!
Notes
Spread the cream cheese mixture over the top of the pretzel crust completely to the edges so the gelatin won't leak through.
 
Â

Sausage Egg Roll in a Bowl
Basically an unstuffed egg roll.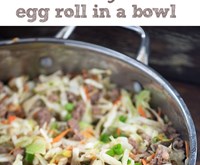 Prep time:
Cook time:
Total time:
Ingredients
1 pound ground pork sausage
6 cups coleslaw mix or shredded cabbage
4 cloves garlic, minced
1 tablespoon ginger, minced
1 tablespoon soy sauce
¼ cup chopped green onions
1 tablespoon sesame oil
Instructions
Heat a large skillet over medium heat. Add the sausage and cook, stirring often to crumble, until cooked through. Do not drain.
Add the coleslaw mix, garlic, ginger, and soy sauce to the skillet with the sausage. Cook for 3-4 minutes or until cabbage has softened a bit.
Remove from the heat and top with the green onions and drizzle with sesame oil.
Serve immediately.
Nutrition Information
Calories:
500
Fat:
37
Carbohydrates:
7
Fiber:
2
Protein:
19
 
 
Chile Rellanos Jose
Very easy breakfast casserole. Can be put together the night before and bake in the morning.
Prep time:
Cook time:
Total time:
Ingredients
1 large can Hatch Green Chilis whole
1 lb Monterrey Jack cheese
½ lb Cheddar cheese grated
5 eggs
¼ c milk
1/c c flour
salt & pepper
Instructions
If cooking immediately, preheat oven to 350.
Remove the seeds and drain the peppers.
Cut the Monterrey Jack cheese into strips about ¼" x ½" the length of your peppers.
Insert the strips of cheese inside the peppers and place side by side in a 9x13 pan.
Spread the grated cheddar cheese all over the top.
Beat the eggs with a fork, then add the rest of the ingredients.
Pour over the top of the peppers and cheese.
Bake for approximately 45 minutes.
Optional: serve with fresh chopped tomatoes, green onions, shredded lettuce.
You can refrigerate and bake later.
 
Makes 2 9″ Pies
Bake at 450 for ten minutes then at 350 for 40-45 minutes.
Green Bean Chili
Ingredients
2.25 lbs ground chuck
1 onion chopped
4 cans green beans
4 cans diced tomatoes
Salt, Pepper, Chili Powder and Cumin to taste
Instructions
Brown ground meat and add the chopped onion. After the onion is almost clear, add the tomatoes and green beans and seasonings. Let simmer for an hour and serve with hot sauce if desired and shredded cheese.
Delicious cold black-eyed pea salad!!
INGREDIENTS
1 16-oz can black eyed peas, drained
1 11-oz can shoepeg corn, drained
2 tomatoes, chopped
1/4 purple onion, chopped
1 green bell pepper, chopped
1/2 c Splenda (or sugar)
1/2 c Apple Cider Vinegar
1/4 c canola oil
1/2 t Lawry's Seasoning
1/2 t ground black pepper
---
INSTRUCTIONS
In a large bowl, combine peas, corn, tomatoes, onion and bell pepper. In a medium bowl, combine Splenda, vinegar, canola oil, pepper and Lawry's. Pour over vegetables and refrigerate overnight.
---
NOTES
You can substitute 2 teaspoons of Tabasco instead of the Lawry's and black pepper. You can also serve this salad over salad or mixed greens, but it is delicious just by itself.
YIELD 2 quarts • ACTIVE TIME 15 minutes • TOTAL TIME 12 hours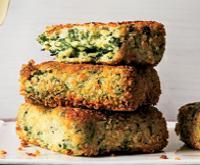 INGREDIENTS
Ingredients

1/2 cup quinoa
1/4 cup plus 2 tablespoons extra-virgin olive oil
1 tablespoon minced shallot
10 ounces baby spinach
Salt
Freshly ground pepper
1 cup low-fat milk
3/4 cup finely ground semolina
1/4 cup freshly grated Parmigiano-Reggiano cheese
1 large egg, beaten
1 1/2 cups panko (Japanese bread crumbs)
3 large egg whites
---
INSTRUCTIONS
In a small saucepan, combine the quinoa with 1 cup of water and bring to a boil. Cover and cook over low heat until the water has been absorbed, about 15 minutes. Lightly fluff the quinoa with a fork and cover it again.
Meanwhile, in a large skillet, heat 1 tablespoon of the olive oil. Add the shallot and cook over moderate heat, stirring, until softened, about 1 minute. Add the spinach and cook until most of the liquid has evaporated, about 5 minutes. Season with salt and pepper. Transfer the spinach to a strainer and let cool slightly; press out any remaining liquid and finely chop the spinach.
In a large saucepan, combine the milk, 1 1/2 cups of water, 1 tablespoon of the olive oil and 2 teaspoons of salt and bring to a boil. Remove the pan from the heat and gradually whisk in the semolina until very smooth. Cook over moderate heat, stirring constantly with a wooden spoon, until the semolina is thick enough to hold soft peaks when the spoon is lifted, about 7 minutes. Remove the semolina from the heat and stir in the quinoa and Parmigiano. Season with salt and pepper and let cool for 15 minutes.
Stir the beaten whole egg and spinach into the quinoa mixture and spread in an ungreased 7-by-11-inch pan; it will be about 2 inches thick. Let cool at room temperature, then cover loosely with plastic wrap and refrigerate for at least 4 hours or overnight.
Preheat the oven to 250°. Cut the chilled semolina mixture into 12 squares. Put the panko in a shallow dish and season with 1 teaspoon of salt. In another shallow dish, whisk the egg whites with 1/2 teaspoon of salt and 1 tablespoon of water. Dip the cakes into the whites and turn to coat, letting the excess drip off. Coat the cakes in the panko and shake off excess crumbs. Transfer to a clean baking sheet.
In a large skillet, heat 2 tablespoons of the olive oil. Add half of the cakes and cook over moderately high heat until golden on both sides and on the edges, about 6 minutes; adjust the heat as necessary to prevent the cakes from burning. Drain the cakes on a paper towel–lined plate, then transfer to a baking sheet and keep warm in the oven. Wipe out the skillet and cook the remaining cakes in the remaining 2 tablespoons of olive oil. Serve hot.
YIELD Makes 12 cakes • TOTAL TIME 1 HR plus 4 hr chilling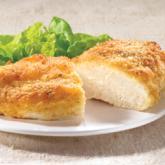 INGREDIENTS
1/2 cup Hellmann's® or Best Foods® Real Mayonnaise
1/4 cup grated Parmesan cheese
4 boneless, skinless chicken breast halves (about 1-1/4 lbs.)
4 tsp. Italian seasoned dry bread crumbs
---
INSTRUCTIONS
Preheat oven to 425°.
Combine Hellmann's® or Best Foods® Real Mayonnaise with cheese in medium bowl. Arrange chicken on baking sheet. Evenly top with mayonnaise mixture, then sprinkle with bread crumbs.
Bake 20 minutes or until chicken is thoroughly cooked.
YIELD 4 • ACTIVE TIME 10 minutes • TOTAL TIME 30 minutes