BLT Pasta Salad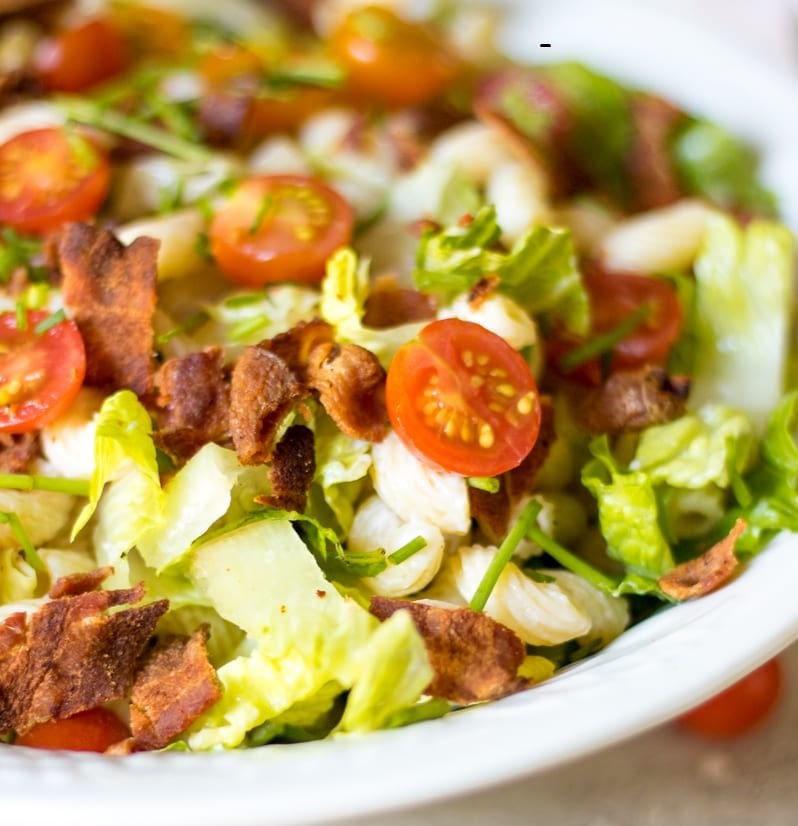 Prep Time:
25 minutes
–
Cook Time:
10 minutes
Servings:
15 servings
---
1 pound whole grain campenelle pasta* corkscrew and rotini noodles work just as well too
1 head of romaine lettuce chopped
2 pints of cherry or grape tomatoes sliced in half
3 tablespoons chopped chives
1 pound nitrate free bacon
1/2 cup good quality mayonnaise
2 tablespoons minced shallots
2 tablespoons apple cider vinegar
1 teaspoon sugar
1 tablespoon bacon drippings
---
Cook pasta according to package directions. Drain well and cool the pasta completely. I do this by spreading on cookie sheet and tossing into fridge–quick and easy!)
While pasta is cooking, dice the bacon and cook over medium high heat until bacon is crisp. Drain bacon on paper towels, reserving 1 tablespoon of grease.
Mix together bacon drippings, mayonnaise, vinegar, sugar and salt and pepper to taste.
Toss the dressing, cooked and cooled pasta, chives, tomatoes, lettuce and bacon bits together until evenly distributed.
---
To make this BLT salad versatile for an outdoor gathering, nestle your serving bowl on top of a larger serving bowl that has been filled with ice or ice packs.
If the thought of bacon grease scares you, just omit it!
I used nitrate-free organic pork bacon, but any bacon (even turkey bacon) will work.
To make this a Gluten-Free BLT Pasta Salad, use gluten free pasta.
If you happen to have garden fresh roma tomatoes or beefsteak tomatoes, you can use in place of cherry tomatoes–just seed them first to prevent the pasta salad from becoming watered down.
I do use granulated sugar in the dresssing. Honey will work, but I really like the sweetness without any added taste that comes from honey or maple syrup.
I used romaine lettuce because that is my preferred green in a BLT sandwich, but iceberg or green leaf lettuce works well too.
Nutrition Facts
BLT Pasta Salad
Serves
Amount Per Serving
Calories

271

% Daily Value*
Total Fat

12

18.5%
Saturated Fat

2

10%
Trans Fat
Cholesterol

22

7.3%
Sodium

696

29%
Total Carbohydrate

15

5%
Dietary Fiber

2

8%
Sugars

4

Protein

7
| | |
| --- | --- |
| Vitamin A | Vitamin C |
| Calcium | Iron |
* Percent Daily Values are based on a 2,000 calorie diet. Your daily values may be higher or lower depending on your calorie needs.
https://recipes.romere.com/blt-pasta-salad/
---